Alistar's story
"I remain unvanquished"
Alistair Armstrong is descended from a fearsome Scottish clan whose motto – I remain unvanquished – is most apt. Alistair has been faced with a fair share of challenges in his life, but his attitude in the face of adversity has always been to get back up and keep going.
Alistair has always had a love for cycling, and started riding with his dad and the Happy Wheelers club in Johannesburg while he was in junior school. He soon got involved in road and track racing, and was chosen to ride track as one of the young riders sponsored by Simba chips. In those days there were only two sponsored teams, Simba and Pepsi cola. The emphasis was on fun, and the free Pepsi and Simba chips in the change rooms were great motivation.
Alistair gave up cycling in high school but continued to take part in other school sports. He got involved in triathlons after school and completed seven Iron Man competitions, achieving a silver medal for six of them.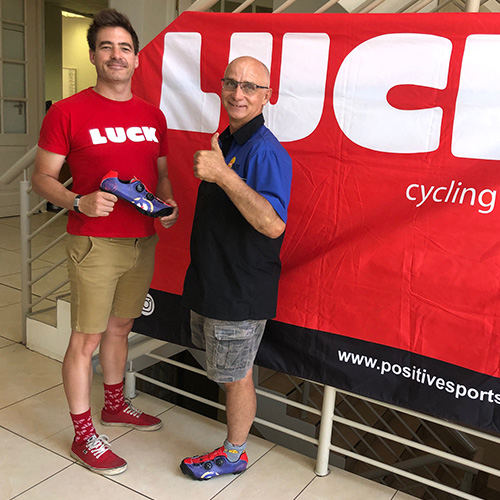 After proving himself as a more than accomplished triathlete, Alistair decided to get back on his bike and soon rediscovered his love for cycling. While he was working at the SABC, he rode for the Topsport "B Team" and later rode for the NNTV Junior Semi-Pro Team. When he was in his late twenties, he was chosen to ride for the Imperial Truck Hire team – the best Semi-Pro team at the time. It was at the start of what would've been his first season with this team that Alistair picked up what was believed to be a sports injury.
After six months of consultations with doctors, physiotherapists and orthopedic surgeons, it was discovered that Alistair had very aggressive bone cancer in his left leg. Alistair called this the "good news" as he was so relieved to finally know what was wrong with him. The prognosis was not good, but Alistair refused to accept that he had only little chance of beating the cancer.
Alistair underwent 7 months of intense chemotherapy. Included in his treatment was the devastating amputation of a section of his femur and knee, coupled with the insertion of an internal prosthesis. Miraculously, Alistair had a 100% chemo success rate, which is extremely rare in these circumstances – and almost certainly attributed to his incredible willpower and tenacity. Lance Armstrong was undergoing chemo at the same time, and Alistair took great comfort knowing that he was not the only cyclist fighting this battle.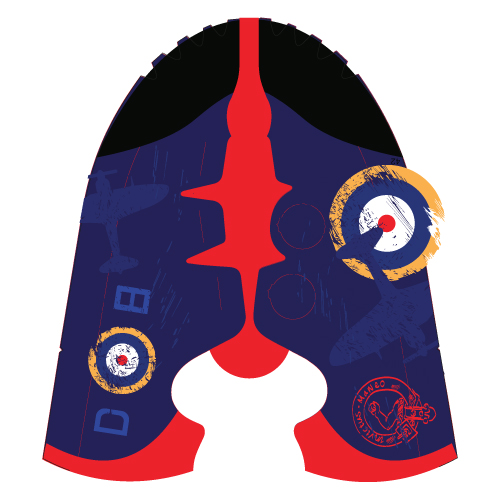 Another huge inspiration to Alistair at this difficult time in his life was Sir Douglas Bader, the WW2 Royal Air Force ace. Bader lost both his legs in an aerobatics stunt that went wrong, yet still went on to become an absolute hero in the Royal Air Force. Throughout chemo and recovery, Alistair simply "lived for the day [he] could get back on [his] bike."
After finally getting out of hospital and back onto his feet, Alistair went on to ride many races with his internal prosthesis, including three Argus Tours. Later, he tried his hand at paddling, and took part in three Dusi Canoe Marathons, The Fish River Canoe Marathon, and the Drak Challenge. This was all despite his doctor's strict warnings against damaging his prosthesis, which Alistair always cheekily shrugged off – nothing was going to keep him from challenging himself!
There were a few years when exercise took a back seat as Alistair was working eighteen-hour days and had to help raise a young family. Alistair's twin sons, Luke and Liam, shared their father's love for Judo and took up the sport in junior school. It was while horsing around with them on the Judo mat one day that Alistair's internal prosthesis broke off at both the top and bottom end.
Alistair didn't think too much of it and was quite keen on getting fitted with a carbon upgrade. Unfortunately, upon opening up his leg, the doctors found that his prosthesis had started disintegrating and had caused metallosis. The implant had been in his leg for 17 years instead of the recommended 12, lasting so long due to the strength of Alistair's muscles. His leg had become severely infected from the disintegrating metal, and the doctors had to perform an operation to remove the prosthesis. There were complications after the operation and Alistair got septicemia, also picking up a superbug from the hospital. It was touch and go, and there were a couple of occasions when medical staff thought that he wasn't going to make it. Recovery was a long, hard battle, and eventually resulted in Alistair agreeing to have his leg amputated on the advice of his doctor.
Bouncing back the second time was an intense physical and psychological struggle for Alistair. Pedaling with one leg is extremely challenging and Alistair was finding it difficult to breathe, especially up hills. The mental struggle was incredibly taxing on Alistair, but it was around this time that he met Oswald Kydd.
Oswald Kydd is an accomplished para-triathlete who was hit by a truck at the age of 29, resulting in his right leg being amputated above the knee. Oswald phoned Alistair to ask him about an entry to a race that ran through Alistair's farm. There was an extremely difficult climb on the route, and Alistair tried to convince Oswald that it would be too tough for him to handle. Oswald insisted, and on the day of the race, Alistair could not believe his eyes when he saw Oswald appearing over the crest of the hill in mid-field! It was then that Alistair's daughter, Aimee, turned to her father and asked the poignant question, "So dad, what's your excuse?"
Oswald went on to guide and inspire Alistair to get back on his bike, helping Alistair to win his mental battle and ultimately changing his life.
One day Aimee decided that she would enter the Spur school series on her dad's old bike. The cycling bug bit her hard, and soon she was egging her dad on to do more and more cycling. They joined the Cradle and Beyond cycling group and have been on a number of exciting excursions with them to Northern Farms and the notoriously hilly Suikerbosrand to name but a few. Furthermore, Oswald has convinced Alistair to take part in the Para-cycling Provincial Champs – watch this space.
Invictus Maneo!